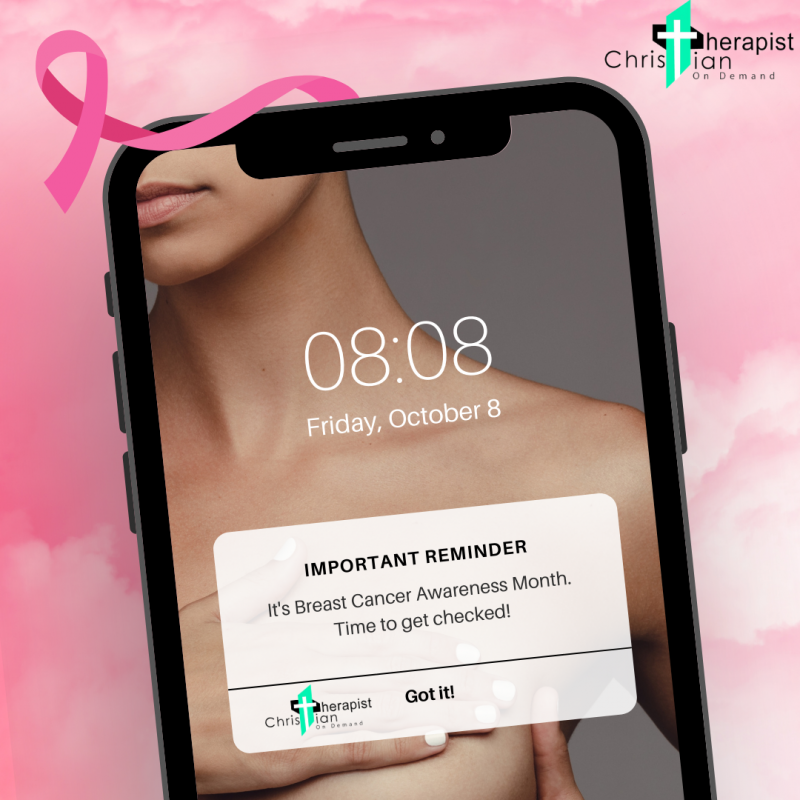 October. Have you checked your calendar? There are a few big awareness campaigns happening this month. First, Breast Cancer Awareness month. Ladies, perform your self-checks and get your mammograms and remind your friends to do so to! That being said you're thinking, this is a website about therapy and counseling, why are they mentioning Breast Cancer? I'll tell you why. One, it's important to your physical health. Two, because we here at CTOD know that your physical health affects your mental and emotional health and vice versa. It's important to treat the whole person and not just one aspect of a person's health.
Have you ever known someone who's had breast cancer? Or had breast cancer yourself? It's scary! All of a sudden, you're undergoing multiple medical procedures and going to the doctor all the time…and they keep saying that "C" word! Kids, family, and friends are worried for you and scared they might lose you. You're scared it might take your life. You're worried about getting chemo, surgery, or radiation. What if you need a mastectomy? That carries a lot of feelings. Concern, fear, anger, grief, loss and so many more.
If you, or someone in your family or circle of friends are dealing with Breast Cancer you're also dealing with all these worries and emotions. You can look to God and claim His truths. God has a plan for you. He has plans for good and not for harm as he says in Jeremiah 29:11. "'For I know the plans I have for you,' declares the Lord, 'plans to prosper you and not to harm you, plans to give you a hope and a future." He also cares more about us than we can ever truly know. He tries to give us a picture as he tells us how he cares for the birds (Matthew 6:26 –" Look at the birds of the air; they do not sow or reap or store away in barns, and yet your heavenly Father feeds them. Are you not much more valuable than they?") And of course, He sent His only child to die for you. (John 3:16 "For God so loved the world that He gave His only begotten Son, that whosoever believes in Him shall not perish but have eternal life.")
So because He cares for you so much we can trust that He has good plans for you. Sometimes that means going home it's true. But even in death we have hope. 1 Thessalonians 4:13-18 – " Brothers and sisters, we do not want you to be uninformed about those who sleep in death, so that you do not grieve like the rest of mankind, who have no hope. For we believe that Jesus died and rose again, and so we believe that God will bring with Jesus those who have fallen asleep in him. According to the Lord's word, we tell you that we who are still alive, who are left until the coming of the Lord, will certainly not precede those who have fallen asleep. For the Lord himself will come down from heaven, with a loud command, with the voice of the archangel and with the trumpet call of God, and the dead in Christ will rise first. After that, we who are still alive and are left will be caught up together with them in the clouds to meet the Lord in the air. And so we will be with the Lord forever. Therefore encourage one another with these words."
When you find yourself facing these overwhelming situations and you just aren't sure where to turn…where do you go? Your pastor, doctor and a therapist are excellent choices. A support group is another wonderful resource. Support groups and therapy are good options not just for the person who has breast cancer but also for those around her who are feeling all those feelings. It's good to just talk about those things and realize you are not alone.
If you are going a breast cancer diagnosis or another life changing diagnosis, I encourage you to sign up for our app today and talk to a licensed therapist or join a support group. You're not alone and it takes strength to reach out.